Clean Up Day!
Thank you to all students and PTO for helping with our Clean Up Day. Many students were able to go outside, clean our yard, and plant trees and flowers. Special thank you to student government for helping as well!
Kindergarten Lions – Here us ROAR!
First, our kindergarten artists learned how to make texture using line to create a lion's mane. They were experimenting with 3 different drawing mediums; crayon, colored pencil and makers. Next, they worked out the details of their lions face on yellow paper and used lots of contrast so that their lion's teeth would really stand out!
7th Grade Word Portraits
7th Grade Artists combine technology with visual art to create self portraits made out of words. They had to focus on the contour lines of their images while thinking of ways to describe themselves visually using text.
7th Grade Shoes
Drawing from life, 7th grade students work with contour line drawings of their shoe and patterning to create some very interesting artwork. See? One does not always have to "color inside the lines."
5th Grade Tree Weaving
5th grade students work in the round to create beautiful landscapes that demonstrate their knowledge of how artists use foreground, middle-ground and background in painting. Then, they learned how to make a loom, string up a warf, and use the weft yarns to weave textural designs of their own choosing.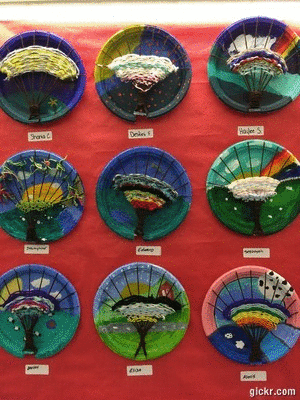 ---